MacArthur High School
Class Of 1971
In Memory
Carolyn Volz (Mitchell)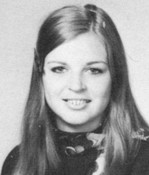 This information was received from Karen Fox. More information will be posted as it becomes available.
Deceased Classmate: Carolyn Volz
Date Of Birth:
Date Deceased:
Age at Death:
Cause of Death:
Classmate City: Bulverde
Classmate State: TX
Classmate Country: USA
Survived By: Parents;Two daughters and one son; 2 sisters, Susan and Darlene;2 brothers, Charles and Roger.

I am friends with Carolyn Volz Mitchell's family. She passed away only a year or two after her husband. Carolyn died about 6 years ago or so, I am not sure but I do think it was less than 8 years ago. She had recently moved back to the San Antonio area from Washington state, after her husband died.