MacArthur High School
Class Of 1971
In Memory
Richard Rupert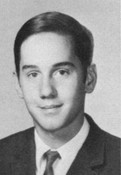 I was informed today that our classmate Richard Rupert Passed away recently. His obituary information is listed below.
April 8, 1953 - April 9, 2015
Richard C. Rupert, age 62, of San Antonio passed away on Thursday, April 9, 2015. Richard was a graduate of Mac Arthur High School and was employed with USAA for 36 years. He enjoyed watching the Spurs and Dallas Cowboys, eating good food and drinking Coors Light. His zest for life, work and fun was endless. He was preceded in death by his parents and brother, William Rupert. He leaves behind his beloved life companion, Patricia Deike; sister, Kay Farmer and friends. Rick will be remembered for his dry sense of humor, generosity, loyalty, professionalism at work and desire to help others. We will all miss him very much! The family wishes to thank Dr. Diane Greiner for her care and dedication. Visitation will be on Thursday, April 23, 2015 at 1:00 p.m. with a Memorial Service to follow at 2:00 p.m. at Porter Loring North Chapel located at 2102 N Loop 1604 East. In lieu of flowers, memorial donations may be made to the charity of your choice.