MacArthur High School
Class Of 1971
In Memory
Roxie Andersen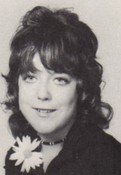 This info was provided by Carla Thrasher Daws, concerning Roxie Andersen.
Roxie passed due to complications from surgery, on 4/21/2007. She was survived by: Mother, Rushie Lorraine Andersen; sister, Barbara (Barby) Andersen

She was my best friend since second grade. She was warm, witty, and always inspirational. She was a city planner for the city of San Antonio. Roxie had many health challenges in her life, and is the bravest person I have ever known. Not a day goes by that I don't miss her.
Ms. Roxie Lorraine Andersen passed away April 21, 2007, at the age of 54. She was born in Camp Pickett, VA, March 28, 1953, and like many U.S. Army families at that time, they were transferred, then in 1955 stationed in Fountainbleu and later Orleans, France. The family returned to San Antonio in 1959, where she attended Oak Grove Elementary, Garner Junior High and MacArthur High Schools, graduating in 1971. She received her B.S.W. in 1978, and Master of Social Work in 1979, from Our Lady of the Lake University. Her career included work for the Arthritis Foundation and Easter Seals of San Antonio. In 1981, Roxie began working for the City of San Antonio in the Disability Access Office, later moving to the Comprehensive Planning Division and the Zoning Division. She was proud of her work on the city's Master Plan Advisory Committee, the Mayor's Committee for Disabled Persons and many other city planning projects. Professional awards included the 1996 Current Planning Team Award for the city's 1995-97 Annexation Plan and the 2003 Project Planning Team for the Southside Initiative Community Plan. She considered her final position in the Historic Preservation Department her most personally rewarding. She was a long-time active member of the San Antonio Conservation Society, serving on NIOSA, Casa Villita, Yturri-Edmunds Home, Anton Wulff House Committees, and other projects. Roxie supported numerous other charitable organizations both financially and personally. Despite increasing physical difficulties resulting from her Juvenile Rheumatoid Arthritis, she led a full and active life, enjoying fantasy fiction, rock concerts, gourmet dining, old movies, shopping, and especially her pets. She was well known & loved for her special Christmas cookies. Roxie was preceded in death by her father, Lt. Col. Homer N. Andersen (Ret.). She is survived by her mother, Lorraine (Rushie) Andersen, her sister, Barbara Andersen and companion John Kuchan, her beloved Bichon Frise, Bijou, along with many close cousins, family both in Texas and across the country, as well as innumerable long-time friends and colleagues. She was a inspiration to all who were fortunate enough to know her. SERVICES Visitation will be Thursday, April 26, 2007, from 6:00-8:00 pm, at Sunset Funeral Home, 1701 Austin Highway. Memorial services will be at Noon, Friday, April 27, 2007 at Sunset Chapel followed by interment at Sunset Memorial Park. In lieu of flowers the family requests donations to her memorial fund as a recent honoree of the Arthritis Foundation (www.arthritis.org). To give words of comfort to the family go to www.mem.com. Sunset Funeral Home.

Published in Express-News on Apr. 25, 2007