MacArthur High School
Class Of 1971
In Memory
Barbara Smith (Noble)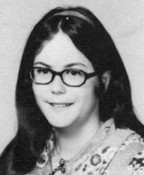 Barbara was one of the first friends I made when I moved to San Antonio in 1965. She was in the band at MacArthur and I think at Baylor also. She and I had several double dates for proms during High School. When she came to visit in either 1986 or 1991 my father took our picture in the same place that he had taken our prom pictures. I wish I could find those pictures now. I was at her wedding in 1975 and kept in touch for a while. She had three children and became a nurse and then a paralegal in the medical area of the law. I lost track of her about 20 or so years ago. Her father was retired military and then went on to a teaching career. She was an only child.
She came to one reunion with her husband Clay and the three children. Clay was an Aggie.
I cannot believe I missed her obit in the San Antonio paper because I was checking regularly for my Mother to let her know if friends had passed. But January to March of 2015 was a chaotic period in my life I was trying to decide to retire from AT&T and my Mother's health had started to decline slowly.
They ran the Obit in the San Antonio, Houston and Keller are newspaper
Barbara Ruth Noble, 62, passed away Thursday, Feb. 12, 2015.
Barbara was born in Washington, D.C. She grew up in San Antonio. She was a proud graduate of Baylor University, where she received her bachelor of science in nursing in 1975. She graduated from Southwest Paralegal Institute in 1978. Barbara was a registered nurse, a certified legal nurse consultant, and a pioneer of the field of legal nurse consulting, defending nurses, doctors and hospitals. Barbara followed her husband around the gas patch to Midland, Denver City, and Houston before finally settling in Keller. She was the president of the American Association of Legal Nurse Consultants in 1995 and 2005, president of the Tarrant County Aggie Mom's Club from 2005 to 2006, and in charge of the Keller Band Booster concession stand from 1999 to 2000. She was also a Stephen Minister for Keller United Methodist Church. Barbara was a friend of all; she never met a stranger. She would talk for hours to a perfect stranger. She had a spirit and optimism that infected and inspired all who knew her. She loved to bake, especially pound cakes and her grandmother's special cinnamon buns.
Barbara was preceded in death by father, retired Col. F.E. Smith; and mother, Mary Ellen Smith. Survivors: Husband, Clay Noble; daughters, Beverly Cobb and Carol Thompson; son, Craig Noble; and four grandchildren.
Thanks
Laury Holden
PS - I cannot find SPELLCHECK ! So forgive any misspellings.
1Attached Images