MacArthur High School
Class Of 1971
In Memory
Charles Plummer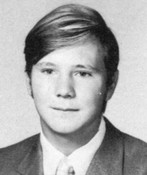 Charles Stockly Plummer, Jr. went to his final resting place on May 31, 2021. He is now searching for new golf courses and fishing spots while enjoying a pain free life with our Lord. Charlie was a kind man with a gentle soul. He was loved by many. Sweet Charlie lost his struggle to the horrible disease of alcoholism.
Charlie was born in San Antonio, Texas on December 16, 1952. He lived his entire life in San Antonio attending Wilshire Elementary and MacArthur High School. He graduated from his beloved University of Texas in 1975 with a BA in Business and remained throughout his life a devoted Longhorn fan.
During college, Charlie began his banking career with Frost Bank as a summer intern. After graduation, he was hired full-time enjoying a 41-year career before retiring in 2016. Although a quiet, private person, Charlie thrived entertaining customers on the golf course, hunting range or anywhere he was asked. His career at Frost was a blessing to him and he cherished his customers and coworkers and the friendships he made there.
Charlie had a passion for golf. Being a young talent, his mom would drop him at the Seven Oaks golf course on Austin Highway every day after school to practice until he was able to drive himself. He played in tournaments throughout San Antonio winning numerous awards. Talented enough to play in college, Charlie knew he would have a tough time competing against talents like Tom Kite and Ben Crenshaw. His love of the University of Texas out won his desire to compete at the college level. Fortunately, his career allowed time for golf with customers while he also continued to play leisurely after retirement.
After Charlie and his two young children, Tres and Kadie, proposed to his future wife Beth Stewart Plummer, he married her on March 19, 1994. First marrying in San Antonio amongst close friends and family, they married again on the famous #3 hole on Mauna Kea in a traditional Hawaiian ceremony. Married for 27 years, their love remained strong.
While Charlie had a passion for many things, his love for his children and family came first. Although he had his struggles, he was always willing to do anything for his kids and family. His love language was acts of service. He loved coaching little league, running the score board at basketball games and letting the kids beat him at Monopoly.
Charlie was a member of numerous organizations including San Antonio Country Club, Pinnacle Country Club, The Texas Cavaliers, The German Club, The Town Club, The Fiesta Commission and Phi Gamma Delta Fraternity. Each club had special meaning. Among the most special of all was a monthly Supper Club which met without fail. Over the span of 40 years, the group celebrated and mourned many special events together. The members of this amazing group regard each other as family.
Charlie is preceded in death by his parents, Charles Stockly Plummer and Eleanor Seifriz Plummer. He is survived by his loving wife, Elizabeth Stewart Plummer; daughter, Katharine Devereux Plummer; his two sons, Charles Stockly Plummer III and wife Lida; Julian Taylor Plummer; and sister Lori Plummer Price and husband John.
CELEBRATION OF LIFE
FRIDAY,
JUNE 4, 2021
2:00 PM
TRINITY BAPTIST
CHURCH
319 EAST MULBERRY
SAN ANTONIO, TEXAS 78212
Pastor Les Hollon officiating with a reception following. A private graveside service will be held prior to the celebration of life.
The family has asked in lieu of flowers, memorial gifts be given to Alpha Home, 419 East Magnolia Avenue, San Antonio, Texas 78212, The Texas Cavaliers Charitable Foundation, 909 NE Loop 410, Suite 903, San Antonio, Texas 78209 or the charity of your choice .
Honorary Pallbearers: Chuck Bunn, Will Hausser, Porter Loring III, Joe Taylor, Jim Travis and Rick Young.
https://www.legacy.com/obituaries/sanantonio/obituary.aspx?n=charles-stockly-plummer&pid=198866897&fhid=15386