MacArthur High School
Class Of 1971
In Memory
Bobby Keepers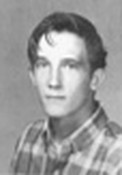 This info was provided to me by Pam Leeper Swint.
Earlier this year I saw in a newspaper obituary that Bobby Keepers passed away. While attending MacArthur, Bobby lived up the street from me in Hollywood Park.

I found the information below on the internet:
Robert Louis Keepers, 57, of Lakehills, passed away on August 21, 2010, at his residence. He was born in San Antonio to Frederick T. and Ella Rozelle (Johnson) Keepers on October 10, 1952. He was married to Deborah Renae Glover on March 10, 1984 in Corpus Christi. He graduated from MacArthur High School in San Antonio. He loved to hunt and fish, loved to watch college football and spent every weekend at the lake. He is preceded in death by parents, Frederick and Ella Keepers; brother, Mark Hudson Keepers. He is survived by wife, Deborah Keepers of Lakehills; daughter, Kourtney Rozelle Keepers of San Antonio; son, Bert Keepers of San Antonio; brother, Fred Keepers and wife, Susie of Lakehills; nephews, Rusty Keepers and Randy Keepers; niece, Lisa Keepers and numerous other nieces and nephews, aunts, uncles and cousins.