MacArthur High School
Class Of 1971
In Memory
Keith Elolf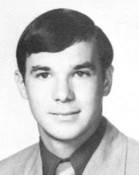 This information was provided by Deborah Large.
Keith passed on in 2003.
Survived By: Four children: Stephen, Joe, Lara, and John. One grandchild: Kyla.
More information will be provided as it becomes available.

Let me just add a personnel note, that I liked Keith a lot, I ran into him a couple of years after graduation when I think he was attending Baylor University, after Hu Rhodes decided to attend there for a while. It was good to see him, and we always had a good time together. I am very sad to just now hear about his passing. He was a good guy!!
Bob Cuddy