MacArthur High School
Class Of 1971
In Memory
Sharon Elmer (Tinnon)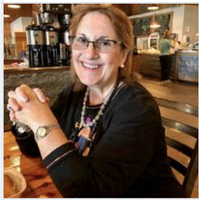 Sharon Lee Elmer was born to Robert and Dorothy Jean Elmer on September 29, 1953, in San Antonio, Texas. She was the oldest of four sisters. In 1960 her beloved stepfather, Wallace Grosse, joined the family. She married the love of her life, Michael Tinnon, in Houston, Texas, in 1983 and welcomed sons Stephen in 1987 and David in 1989. Sharon loved being a wife and mother and took great pride in being a registered nurse. She died in her sleep on March 13, 2023, due to complications from a ten-year long journey with Alzheimer's Disease. Sharon was 69; and she had been married to Michael for nearly 40 years.
Sharon is preceded in death by her father, Robert Elmer and her stepfather, Wallace Grosse. She was also preceded in death by her grandparents, several aunts and uncles, and several cousins.
She is survived by husband Michael and their sons Steve and David. She is also survived by her mother, Dorothy Jean Grosse; sisters Trudie Elmer, Becky Bergeron, and Audra Grosse (Gilbert); and her maternal aunt Carolyn and her four daughters and their families, as well as many Elmer and Grosse cousins.
She talked to her mother on the phone almost every day of her life, even when communicating became more challenging for Sharon. She loved her dog children, Hank and Hazel, and many other pets preceding them.
Sharon was a 1971 graduate of Douglas MacArthur High School in San Antonio, Texas. Soon after, Sharon started her medical career as a Unit Clerk at Methodist Hospital, San Antonio. She studied to become a registered nurse and served as an RN for nearly 40 years. Later, Sharon earned her BSN from UT Health San Antonio School of Nursing.
While living In Houston, during the 1970's and 1980's, Sharon worked as a cardiovascular, surgical nurse with renowned heart surgeon Dr, Denton Cooley. Sharon's heart extended to those in crisis as a patient, friend, and while doing missions work. She was a life-long Methodist and an active member at Coker United Methodist Church, San Antonio.
As a working mother, Sharon served with excellence at hospitals in Houston, Salt Lake City, Utah, and San Antonio, in the emergency rooms and in Risk Management. Sharon served in local and state leadership roles with the American Society of Health Care Sisk Management (ASHRM). Michael attended several ASHRM conferences with Sharon, including those held in Denver, Boston, and Washington, DC. Sharon retired early in May 2014, at the age of 60, largely due to Alzheimer's Disease / dementia that robbed her of the requisite executive planning skills to succeed as a hospital risk manager.
Sharon was a very colorful piece of the quilt of her extended family. As a wife, mother, daughter, sister, cousin and aunt, Sharon was the planner of zany events, costumed holidays, and delicious dinners. She loved playing board games and watching the Houston Astros baseball team. Sharon enjoyed the music of the Beatles, Elton John, and ABBA. Sharon was enthralled when attending live musicals on Broadway, at the Majestic Theatre in San Antonio, Texas. Some of her favorite shows were: Jesus Christ Superstar, Wicked, Chicago, Phantom of the Opera, Cats, Annie, and many more. Sharon was an avid traveler, while living in Breda, Netherlands as a young nurse and later, visiting numerous North American attractions including Niagara Falls, New York City, Disney World, Disneyland, Colorado, San Francisco, San Diego, Honolulu, Alaska, Cancun, Destin, Florida, and numerous national parks and attractions in the western states, including the Grand Canyon, Yellowstone, Arches, and Zion..
Her friendships were life-long. She gathered regularly with high school classmates, who remembered her directing plays and participating in the Lassies drill team. She and Michael were founding and continuing members of the "Eat-A-Lot" group, started in Houston, around 1984. This group began as a dinner group of young married couples who grew together, dining and traveling as newlyweds, working professionals, parents, dog/cat parents, grandparents, and retirees.
Sharon's last years were not easy. Alzheimer's disease robbed her of many abilities, from driving and reading to communicating. She rarely complained, largely taking her condition in stride, while continuing to flash her beautiful, warm smile. Michael was usually by her side filling Sharon in on the outside world, singing to her, holding her hand, and reminding Sharon that she was and always would be his best girl.
Their relationship provided us with a living example of a positive caregiving and care-receiving relationship. Even Sharon's caregivers at Pipestone Place, San Antonio, Texas, for the last 16 months of her life, were enchanted by her presence. Sharon let them do her hair and nails, fuss over her, and love on her. She made all who knew her feel welcome and loved.
Sharon lived her life bearing full witness to the love of Christ and sharing it with us all. Her spirit will live on when we live colorful, committed, and caring lives.
You are invited to attend a Celebration of Life Service for Sharon, to be held in the Sanctuary at Coker United Methodist Church, 231 East North Loop Rd., San Antonio, Texas, 78216, on Saturday, April 22, 2023, at 10:00 AM, with a reception to immediately follow, in the Fellowship Hall. We look forward to seeing friends and family, to cry, laugh, and reminisce.
Services held on Saturday, April 22, will be live streamed, starting at 10:00 am, at Coker.org.
Memorial gifts, in Sharon's name, are welcomed and can be made to Coker United Methodist Church and the Alzheimer's Association, San Antonio & South Texas Chapter Office, 1100 Northwest Loop 410, Suite 302, San Antonio, Texas 78213.