MacArthur High School
Class Of 1971
In Memory
John Crowder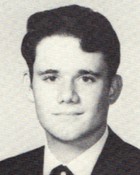 This info was provided by Pam Leeper Swint.

Surrounded by family and friends, John Charles Crowder was called to be with our Lord and his parents, Charles & Betty Crowder, on November 22, 2010 at the age of 57. After earning his BS & MBA from UTSA, his professional career began at

Methodist Hospital

as a programmer. He later moved to Chromalloy Gas Turbine where he was Director of Management Information Systems. After gaining many years of experience he ventured out as an entrepreneur. While he accomplished many great things in life he was most proud of his beautiful family. Survived by his loving wife of 30 years
, Rebecca; daughters, Christine, Angela, and Victoria; sisters, Sharron and Anna (Tim) Watcher and many other family & friends. John created happy memories in all the lives he touched; he truly knew how to embrace and live life to the fullest. He was loved by all who knew him for his thoughtful insights and remembered for his intelligence,

sense of humor

, kindness, outgoing spirit, and unconditional love. We will keep John's memory close to our hearts and he will be deeply missed by his loving family and friends. Funeral services are at Oak Hills Mortuary on
Saturday, November 27, 2010 visitation at 3:30 pm services to follow.

Published in Express-News on November 25, 2010