MacArthur High School
Class Of 1971
In Memory
Maripat Blake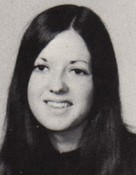 This information was received from Brian Hastings.
I will add more details as they become available. Additional information provided by Charlie Jupe.
I found a little bit of information on Maripat. At least more than what is stated here.
Maripat Blake (Hobbs) b. Aug 25, 1953 d. Aug 15, 1977. Is located at Greenwwood Memorial Park and Mausoleum in Fort Worth, TX. She resided in Marshall, Tx. and was married to Robert P. Hobbs.
Additionally; Annette Serine Brown
I was a friend of Maripat(Patty)Blake Hobbs. She died while en route to a nursing school in Texas. Her husband had been reassigned from Whiteman AFB to a base in Texas. She had 2 children (Heather and Blake Robert Hobbs. She was a wonderful person. I miss her even after 40 years.